May 03, 2015
Comments Off
I guess one bonus of the pathetic May releases under the FFMP is that the West Branch and Upper East Branch are now a waders paradise.  The Lower East and Mainstem are decent for both floating and wading.  The flow at Callicoon is now 1,710 cfs and dropping.  Luckily the water temps have stayed cool so far.  We are seeing a mix of blue quills and hendricksons, plus the little black caddis are active.  Much of the dry fly activity is happening later in the day.  The low, clear water are making the fish a bit shy and pickier than normal for this time of year.  We are finding success fishing emergers, cripples, and floating nymphs.  Nymphing has been decent in the riffles early in the day.  We haven't seen many spinners yet but they should be coming over the next few days.  Today's forecast is sun, light winds, and a high of 72 degrees.  The West Branch under the 191 Bridge is 50 degrees this morning and peaked at 57 degrees yesterday afternoon.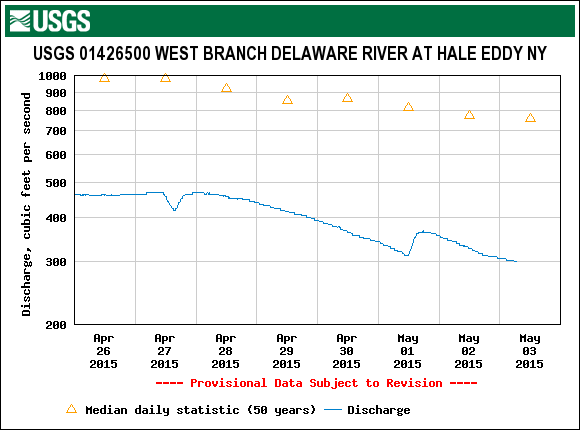 Hatching:
Hendrickson – #14 – E. subvaria (male)
Hendrickson – #12 – E. subvaria (female)
Blue Quill – #16 – Paralep. adoptiva
Quill Gordon #14 – Epeorus pluralis
Blue Winged Olives #16 – 18 – Baetis vagans
Little Black Caddis #18 – 20 – Dark Chimarra sp.
Little Black Stoneflies #14 – 18 – Capnidae sp. and Taeniopteryx sp.