Jun 13, 2018
Comments Off
We woke up to some light rain this morning.  Looking at the hourly forecast it should be off and and on light rain throughout the day.  It's been a while since we've seen any rain so the 1/4″ we'll see by tomorrow morning will soak into the ground.  The release from Cannonsville Reservoir is still listed at 460 cfs but the Stilesville gauge shows 518 cfs.  We're in great shape for wading and floating.  The light rain and cloud cover should help the fishing today.  Besides the olive hatches, the weather should push the other hatches a little earlier in the day and make the fish feel more comfortable eating mid afternoon.  We had sporadic hatches during the day yesterday but the wind was stronger than the 5 – 9 mph in the forecast.  March Browns, cahills, and caddis were around in the sunshine but the mayflies got off the water quick and it seemed the fish were hesitant to stay up.  Nymphing or swinging wets was definitely the way to go until the sulphurs hatched in the late evening.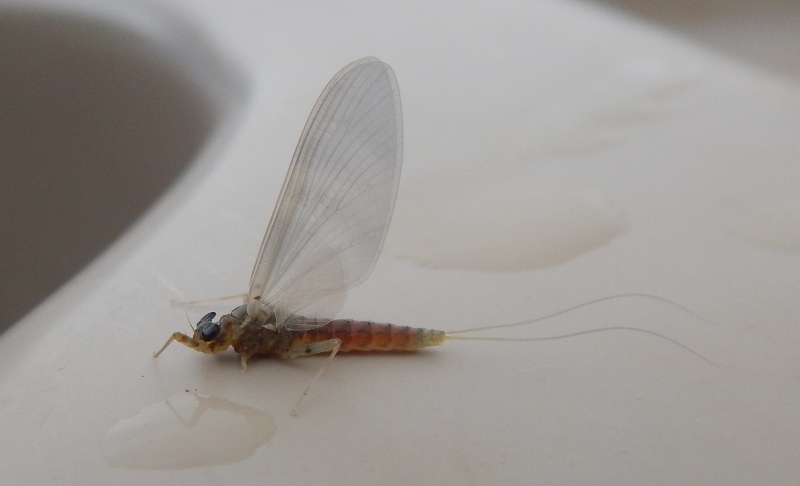 Hatching:
Sulphur – #16 -18 – E. dorothea
Green Drake – #8-2xl – E. guttalata
March Brown #10-2xl – Maccaffertium vicarium
Gray Fox #12-2xl –  Maccaffertium vicarium (formerly S. fuscum)
Light Cahill – #14 – 16 – S. ithaca & canadense
PED / Pink Lady – #14 – Eperorus vitreus
Isonychia – #12-2xl – 12 – Isonychia bicolor
Blue Wing Olives #16 – 18 – Baetis vagans
Tiny Blue Wing Olives #20 – 26 – Psuedo sp.
Dark Blue Sedge #14- Psilotreta sp.
Spotted Sedge #16 – Hydropsyche sp.
There is construction on Winterdale Road.  A short stretch is closed near the Methodist Camp between us and Hancock.  We have detours listed on our website here:  http://thedelawareriverclub.com/welcome-to-the-drc/getting-here/
Click on the gauge below for the most recent update: