Jun 09, 2018
Comments Off
A landing net found on the Upper Mainstem was turned in.  If you're missing one send us and email flyfish@thedelawareriverclub.com
We had a few clouds come through and tease us yesterday but we dealt with sun most of the day.  The bright sun seemed to push the hatches to later in the day.  Once the sun started to drop we had some more surface activity.  Nymphing or swinging wets would be a good bet during the mid day sun, especially with all the caddis around.  You may find some fish slashing caddis in the riffles so keep a dry fly handy too.  The big bugs are still around so carry your March Browns, Gray Fox, Cahill, and Isonychia patterns.  Sulphurs and olives are around in the evening too.  Some sections are seeing Coffin Flies while others are still seeing March Brown Spinners in the air. They should hit the water soon.  Wunderground's forecast shows today as mostly cloudy and 73 degrees.  Wind shouldn't be a problem at 5 mph from the North.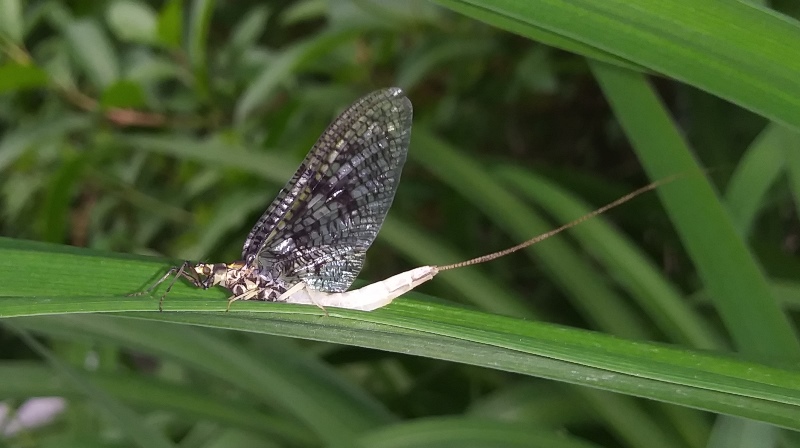 Hatching:
Sulphur – #16 – E. dorothea
Green Drake – #8-2xl – E. guttalata
March Brown #10-2xl – Maccaffertium vicarium
Gray Fox #12-2xl –  Maccaffertium vicarium (formerly S. fuscum)
Light Cahill – #14 – 16 – S. ithaca & canadense
PED / Pink Lady – #14 – Eperorus vitreus
Isonychia – #12-2xl – 12 – Isonychia bicolor
Blue Wing Olives #16 – 18 – Baetis vagans
Tiny Blue Wing Olives #20 – 26 – Psuedo sp.
Dark Blue Sedge #14- Psilotreta sp.
Spotted Sedge #16 – Hydropsyche sp.
There is construction on Winterdale Road.  A short stretch is closed near the Methodist Camp between us and Hancock.  We have detours listed on our website here:  http://thedelawareriverclub.com/welcome-to-the-drc/getting-here/
Click on the gauge below for the most recent update: