May 30, 2014
Comments Off
Yesterday was spinner day.  There were enough spinners on the water for an hour or two that your biggest problem was getting the fish to eat your fly.  Too many bugs sounds good.  We mostly ran into small Hendricksons, some March Browns, Gray Fox, and a few sulphurs in areas.  The rusty spinner imitating the Hendrickson spinner was the key.  The release from Cannonsville is 528 cfs.  The entire system is wadeable.  We should be in the 70's today with some mild winds and some sun- if you believe the weatherman.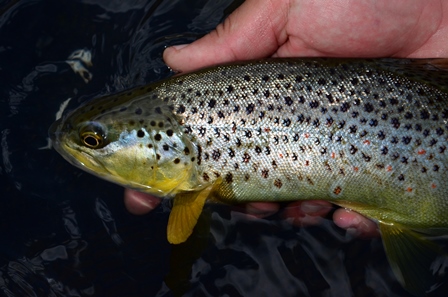 Hatching:
March Brown #10 – 2xl  – S. Vicarium
Gray Fox # 12-2xl – S. Vicarium (formerly fuscum)
Small Dark Hendrickson #16 – E. X
Dark Hendrickson #14 – E. Subvaria
Charcoal Caddis #16-18 – Dk Brachycentrus sp.
Blue Winged Olives #16 – 18 – Baetis vagans