Sep 07, 2014
Comments Off
The afternoon cold front definitely helped the river system.  Nymphing picked up during the day on the West Branch and the olives came in the evening bringing the fish to the surface.  The rain held off for most of the day and wind was manageable.  When the rain did finally arrive the heavy violent stuffed seemed to miss.  We are going to be cooler today with air temps in the mid 70s with a slight chance of rain this morning.  The cool down helped the water temps and we are starting off at 59 degrees on the West Branch under the 191 Bridge.  Small olives, summer stenos, and a few Isonychias should cover your hatches.  Try to match the size of the naturals for nymphing.  We've had success with the lead fly a #14 and the dropper #18.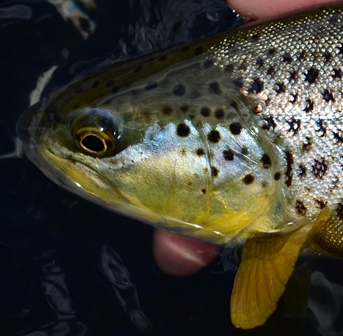 Hatching:
Olive/Sulphurs #18 -20 H. hebe
Summer Stenos #12-16 various species
Tan Caddis #16 – 18- Hydrosyche sp.
Tiny Blue Wing Olives #22 – 26 – Pseudocloeon sp.
Dark Blue Winged Olive #16 -20 – E. deficiens, lata, etc.
Slate Drakes #12 – Isonychia bicolor
Charcoal Caddis #16-18 – Dk Brachycentrus sp.