If you are not already here and committed to float today stay home and regroup for the weekend.  We're looking at a bit more rain today but the real downer will be the 20 mph wind from the North with gusts 30 to 40 mph possible.  The weather will be nicer and flows should be settled by Saturday.
The rain finally started after lunch here yesterday.  It never seemed really heavy, just a slow steady rain all day.  All of the feeders are carrying a lot of water this morning and most of the rivers are blown out and dirty.  The West Branch generally drops and clears the quickest.  The flow at Hale Eddy peaked a little over 2,000 cfs and is already dropping so it is at a fishable level from a boat.  It is definitely off color but should clear up a little today as it drops.  We didn't see any logs or junk floating out front this morning but be careful if you do float it. The best advice is to hold off.  The Mainstem flow will jump today as the Beaverkill and East Branch flows pass through.
Keep in mind the Upper West Branch above the border is closed.  Only border water on the West Branch is open right now.  Check the regs before you fish the system to be sure.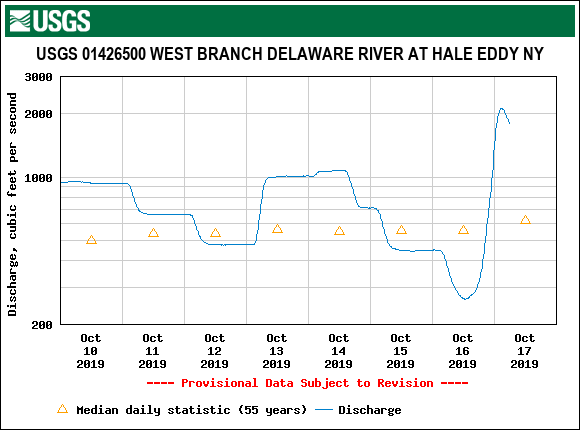 Hatching:
Click on the fly to see the patterns in our online store
Olive Sulphur – Hept. hebe – #18 – 20
Slate Drake – #12 – 14 – Isonychia bicolor
Tan Caddis – #16 – 18 – Hydropsyche sp.
Dark Blue Wing Olives  – #16 – 20 – E. lata, deficiens
Tiny Blue Winged Olives - #22 – 26- Pseudo sp.
Little Tan Sedge – #16 – 18 – Glossosoma sp.
Click on the gauge below for the most recent update:
| | | |
| --- | --- | --- |
| West Branch at Stilesville, NY | 186 cfs | 57° |
| West Branch at Hale Eddy, NY | 1,800 cfs | 51° |
| East Branch at Harvard, NY | 1,680 cfs | 49° |
| East Branch at Fish's Eddy, NY | 6,970 cfs | 51° |
| Mainstem at Lordville, NY | 3,180 cfs | 51° |
| Beaverkill at Cooks Falls, NY | 4,490 cfs | 50° |
| Cannonsville Reservoir Release | 135 cfs | |
| West Branch at 191 Bridge | N/A | 52° |
| West Branch at Walton (Cannonsville inflow) | 2,970 cfs | |
| Cannonsville Reservoir Capacity | 43.2% | |
| Pepacton Reservoir Capacity | 67% | |