Bob Lewis's memorial information:
Saturday, October 7, 2023 at 11:00 a.m. at St. John the Evangelist Church, 66 Oxford Rd., New Hartford. https://www.eannacefuneralhome.com/obituaries/Robert-Lewis-112/#!/Obituary
We had a bit more rain than was forecasted. The flow at Hale Eddy is 797 cfs and rising. At 7 am the clarity is fine in Home Pool. Oquaga Creek bumped to 116 cfs so we may see some color come down mid morning. The lower East is 1,360 cfs and the Mainstem is 3,800 cfs. The Beaverkill is over 1,000 cfs. The rain should end this morning but use the gauge links below for the latest flow information. We had decent olives again yesterday during the rain breaks. Streamers worked well during the rain. Overall it was a good day for people who stuck it out. We're still seeing algae in the Upper West Branch so streamers and nymphing are better below Hale Eddy. The Upper East does not have any algae.
Today will be 61 degrees with light rain tapering off to showers in the afternoon. Daytime rainfall should be .04″. Wind will be 5 – 10 mph from the North.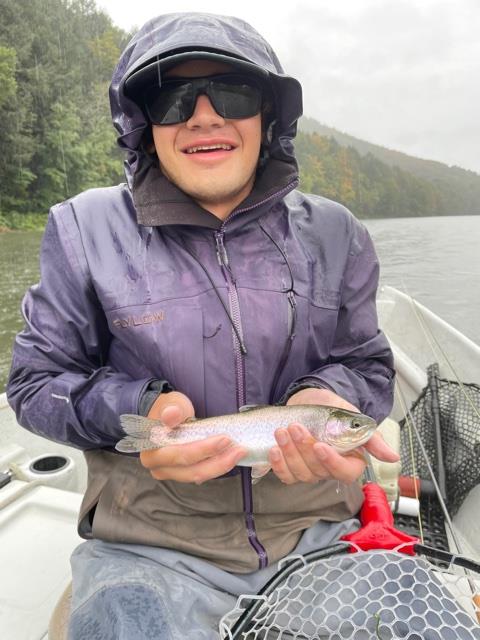 What's Hatching:
Olive Sulphur – # 18 – 20 – Heptagenia hebe
Slate Drake – # 12 – 14 – Isonychia bicolor
Dark Blue Wing Olive – #18 – 20 – deficiens, lata
Tiny Blue Wing Olive – #22 – 26 – Pseudocleon sp.
Olive Caddis – #16 – 18 – Ryacophilia sp.
Tan Caddis – #16 – 18 – Hydropsyche sp.
Dark Blue Wing Olive – #16 – 18 – Baetis spp.

View the current local weather conditions.