BRUCE MILLER – Guide

Bruce Miller has been fishing since he was a small boy. He began fishing the Catskill Rivers (Beaverkill, Willowemoc, Neversink and Esopus) in the early 1960's and never turned back. He introduced himself to the Delaware River System in the mid-1970's and was hooked. In 1985, Bruce splurged and bought his first drift boat, which he purchased with two of his buddies, and he's been floating ever since.
Bruce predominantly fishes with dry flies, but he's also a big fan of throwing streamers especially during high flows. While Bruce has had his guides' license for almost 20 years, he was not able to begin guiding full time until he retired from IBM in 2007. A constant participant in the One Fly competition held annually in Hancock, NY, Bruce made us proud by taking home the Top Guide Award in 2011. These days, when he is not guiding Bruce finds any excuse to fish the saltwater in the Northeast, Florida and Texas.
Hear Bruce discuss the Upper Delaware River on the Destination Angler podcast!
STEPHEN SHEN – Guide

Since graduating from Hamilton College, Steve has been guiding on the Delaware System as well as the Salmon River and Lake Ontario. Exceptionally knowledgeable, Steve is one of our more accomplished entomologists and fly-tiers and knows the river and its residents inside and out. When not looking for rising fish, Steve is throwing streamers at the banks for large browns. He is also passionate salmon and steelhead fisherman, basing his trips in Pulaski, NY area where he guides on the Salmon River and Lake Ontario when not on the Delaware (www.stsfishguide.com).
JARED MAKOWSKI – Guide

An Eagle Scout and Rutgers graduate from somewhere in the swamps of Jersey, guide Jared Makowski has over twenty years experience fly fishing and tying. Bitten by a weretrout at a young age, wild rivers flow through his veins. A carpenter by trade and accomplished bamboo rod builder, he is no stranger to solving problems and having dedication to ones craft. He has found the challenge of consistently catching wild Upper Delaware trout with dry flies extremely rewarding. Patient and laid back, yet always eager to share his knowledge with others, we are glad to welcome Jared to the Delaware River Club.
SAMANTHA DENNIS – Guide

Samantha learned to fly fish on the freestone mountain streams of Vermont and the small rivers of Rhode Island and Massachusetts. While brook trout will always be her first love, the lure of big browns has drawn her to many locations, including a 23-day trip to Chilean Patagonia and a decade in the challenging spring creeks of the Midwest. However, it took just one epic day on the Upper Delaware to hatch an obsession with the river and make it her specialty. While trout on a dry are her favorite, she loves stalking smallmouth and anything that will devour a streamer.
MARC DE JONG – Guide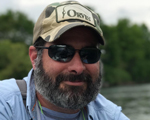 Marc grew up fly fishing the small mountain streams of south western Virginia targeting native brook trout on dry flies. He started giving casting instruction and guiding the small streams of southeastern and central Pennsylvania in 2003. After floating the Upper Delaware system for over fifteen years he joined the Delaware River Club guides in pursuit of wild brown and rainbow trout on the dry fly. Although he is eager to cast to bank sipping browns, he also enjoys hunting large fish with streamers. When not fishing the upper Delaware, Marc can be found casting to striped bass on the Jersey shore or fishing the limestone creeks of central Pennsylvania. Marc continues to run his summer fly fishing camps outside of Philadelphia, and his true passion is introducing young anglers to the world of fly fishing and the outdoors.
JEREMY SHURITES – Guide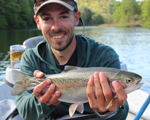 Jeremy, a Pennsylvania native, grew up in the Pocono Mountains. In high school he found the sport of fly fishing as something to do when the snow melted and snowboarding was no longer a viable option. Jeremy quickly dove head first into the sport dedicating all of his time to hunting down big fish and specific target species. Casting dries to wild brown trout is one of Jeremy's favorite ways to fish, but back water tarpon in the Tampa area cesspools is a close second. Out on the water, Jeremy values fun, learning, conservation, and helping to create memories that will last an angler a life time. In Jeremy's spare time you can find him fly tying, hiking, and camping in his roof top tent with his dog, Captain. No adventure is too small for this duo, once living out of the tent for a month on a road trip from PA to Duval street in the Florida Keys.
DAN WILLIAMSON – Guide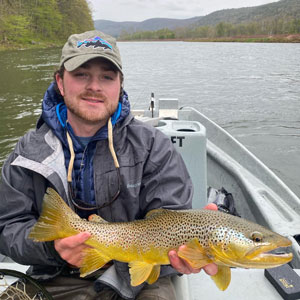 Dan has been passionate about fishing from as early an age as he can remember. Growing up in Westchester County NY, he began exploring fly fishing in the Croton River System. Dan's first experience on the Delaware was when he and his dad took a float trip to celebrate his high school graduation and he was just mesmerized by the splendor of the river. During the summer of his junior year at Houghton College, Dan was fortunate to intern at the Delaware River Club, soaking in the ways of the guides who generously shared their many years of experience with him. Dan continued to spend as much time as possible at the DRC after graduation, convincing him to guide. An easy-going guy, Dan provides a relaxed day focused on what his clients want. He is personally passionate about dry-fly fishing and looks forward to testing the various flies that he ties.
TIM GLYNN – Guide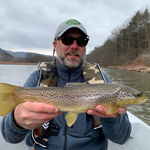 As a kid, Tim was introduced to fly fishing by his grandfather but at 14 bought his first guitar and didn't fish until the band broke up and he had kids of his own. He's fished in Central Pennsylvania, the Poconos, Upper Delaware, the Catskills, Connecticut, and of course the numerous trout waters in his home state of New Jersey.
After fishing the Upper Delaware & Catskills for over 10 years, Tim bought a drift boat and began guiding for friends and family. Under the guidance of Bruce Miller, Jeff White, and others, he joined the DRC as a part-time guide in 2022. Tim specializes in working with first-time fly fishers and loves getting out of the boat to wade fish whenever possible. Whether you are nymphing, chucking a streamer, or casting a dry fly, a day on the water is fun and encouraging with Tim.
Visit suburbanflyfishers.com to learn more about Tim.
MIKE DACCURZIO- Guide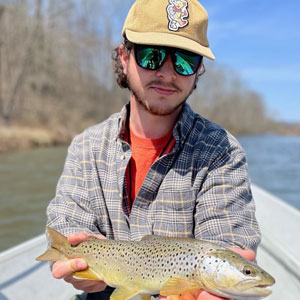 Introduced to fly fishing and fly tying at a young age by his dad, Mike has grown accustomed to his home waters in Central New York and the Adirondack Park. Growing up fishing small creeks he developed an appreciation for nature, which contributed to Mike attending SUNY ESF to study forestry. Exploring new water and testing new patterns is a passion of his, but targeting monster brown trout on streamers is his favorite way to fish. Aside from targeting trout, fishing for Red Fish in the salt marshes of South Carolina is a runner up. For Mike, time spent on the water enjoying nature is everything despite the fishing conditions.
CHRIS BROWN – Guide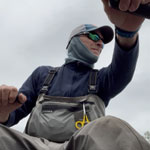 A Pennsylvania native hailing from the southwestern corner of the Keystone State where he began his fascination with trout, Chris now calls southern Vermont home. He's been exploring this corridor for over thirty years and always feels at home finding fish anywhere throughout this highly productive swath of trout-water in the northeastern United States. Exploring Pennsylvania and New England rivers and estuaries with a fly rod in-hand, gaining proficiency in casting, landing fish in both fresh and saltwater, and becoming a proficient fly-tyer, Chris initiated his business and began guiding in 2006. Additional industry experience includes managing the fishing department and fly shop at one of the largest outfitters on the East Coast.
Chris considers himself a well-rounded fly angler and intensely passionate Dry-Fly-Guy. He views guiding and rowing his drift boat for the Delaware River Club as an existential gift where he gets to hone his craft, solving puzzles and matching hatches on a full-time basis from April through October. He's also a little more than slightly obsessed with swinging large flies with the really-long wands (spey rods) and eliminating the common conception that fly angling is an elitist pursuit. He brings a tireless work ethic and service industry background to the Guiding Trade as well. A true working-man's (or working-women's!) guide and oarsman who really listens to his clients.
Visit tiedyedflyguides.com to learn more about Chris.
BENNETT RAGLAND – Guide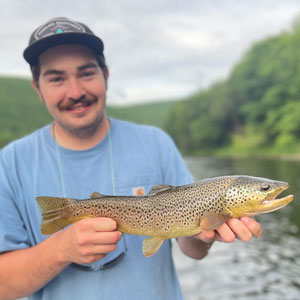 Born in central North Carolina, Bennett grew up fly fishing farm ponds for bass and panfish. While attending Appalachian State University in Boone North Carolina, Bennett fell in love with the beauty and wild nature of the Brook Trout. This newfound species sparked his curiosity and passion for fly fishing and he has never looked back. After spending a summer on the Delaware River, Bennett became infatuated with the large Brown Trout commonly seen sipping dry flies near the bank. This instantly became one of his favorite ways to target trout. Besides wild trout, Bennett also enjoys stalking fierce Peacock Bass in the canals of south Florida and Smallmouth Bass on the main branch of the Delaware .
SEAN WITMAN – Guide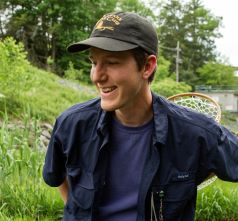 Sean has been fishing in the northeast for his entire life but has been fully committed to fly fishing for over a decade. He has been tying and fishing with his own flies since his second time out with a fly rod. Fly tying turned into a lucky obsession that lead him down a path of commercial fly tying and now co-owning a fly shop and apparel brand in Hawley Pennsylvania called Housefly Fishing.
Sean enjoys fishing for anything that swims but his specialties are trout and smallmouth bass. He has has a difficult time pinpointing any one method as a favorite. Dry flies, streamer fishing, or the sight of a bobber going under all get Sean's juices flowing. He simply loves to be on the water. He has been accused of being too optimistic about the prospect of catching fish by his close friends. It's almost impossible to get his spirits down. Sean has made a life for himself teaching others a wide range of techniques in both fly fishing and fly tying. He is patient, easy going, and nonjudgmental with a primary goal to keep spirits high and to have fun on the water.
JEFF WHITE
Jeff has over 15 years of guiding under his belt, but has been fishing ever since he was a toddler growing up in Connecticut, spending his summers near the Delaware fishing with his grandfather. After working in the corporate world, Jeff decided to make a career out of his love for fishing and began guiding full time in the tail waters of Tennessee, prior to moving to Pennsylvania to manage the Delaware River Club.
Along with the Delaware River, Jeff has guided other waters in New York, Pennsylvania, Tennessee and both North & South Carolina. One thing is certain – good luck finding Jeff anywhere without a river nearby!