Apr 03, 2014
Comments Off
We missed yesterday's post- there's nothing more fun than starting off a new season with computer issues beyond our control!
Overall the fishing is still slow.  While the air temperatures have improved significantly over the last week, the water temps are still a little low to get the fish moving.  That should improve over the next few days as our warming trend continues and the runoff continue to subside.  Right now the river West Branch still has that greenish tint I would describe as "glacial".  There have been a lot of stoneflies in the afternoons but the fish aren't really on them yet.  Most of our success has come on smaller streamers fished slowly.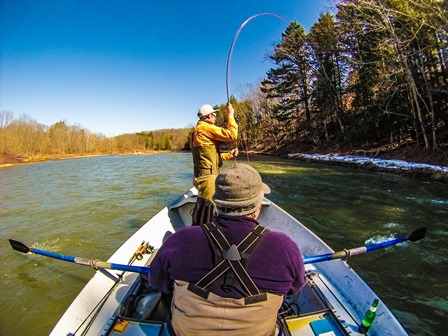 Yesterday on the river- photo by Jordan Davenport
Hatching:
Tiny Black Stoneflies #18 – Capniadae sp.
Early Black and Brown Stoneflies #14 – 16 Taeniopteryx sp.