Aug 18, 2014
Comments Off
The release from Cannonsville was raised to 661 cfs this morning until further notice. The West Branch is still perfectly wadeable and floatable at 661 and most anglers will only notice a slight difference from yesterday.  Hopefully it flushes some of the green algae out of the upper river but it may not be enough of an increase to help.  The wind blew pretty hard fo rmost of the day yesterday taking the mayflies off the water as soon as they hatched.  When the wind dropped in the evening we settled into our usual sulphurs, stenos, and small olives.  Accuweather is calling for lighter winds today- let's hope they are correct.  Cannonsville Reservoir is currently at 87.2% and the West Branch at Walton is flowing in at 80 cfs.  We're wearing fleece again this morning due to the cool nights and the lower West Branch under the 191 Bridge in Hancock is 54 degrees.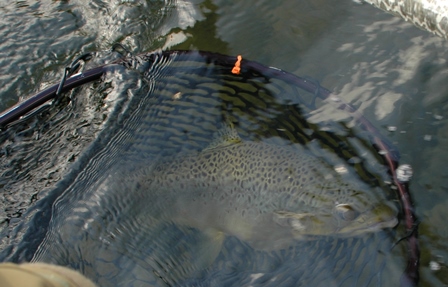 Hatching:
Sulphurs #16 -20 E. dorothea
Summer Stenos #12-16 various species
Tan Caddis #16 – 18- Hydrosyche sp.
Tiny Blue Wing Olives #22 – 26 – Pseudocloeon sp.
Dark Blue Winged Olive #16 -20 – E. deficiens, lata, etc.
Light Blue Winged Olive #16 -20 – E. cornutella, etc
Slate Drakes #12 – Isonychia bicolor
Charcoal Caddis #16-18 – Dk Brachycentrus sp.
Golden Drakes – #12-2xl – Potomanthus sp.