Apr 04, 2014
Comments Off
After a very cold dry March we have been hoping for a cool wet April with enough rain to fill the reservoirs and keep the water temps cool- it looks like we are getting our wish so far.  Accuweather is calling for an inch of rain over the next couple of days.  Air temperatures continue to be pleasant for early April and water temps on the West Branch seem to be on a warming trend every morning bringing closer to the hatching.  Streamers fish slow are still your best bet along with nymphing the upper WB above most of the feeder streams.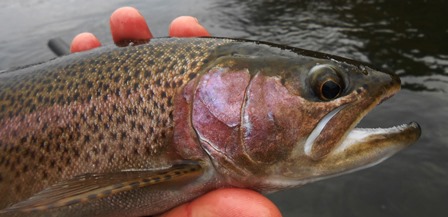 Rainbow head from last October
Hatching:
Tiny Black Stoneflies #18 – Capniadae sp.
Early Black and Brown Stoneflies #14 – 16 Taeniopteryx sp.