May 22, 2020
Comments Off
There were a lot of fish slashing a mix of caddis, spinners, and olives yesterday mid afternoon.  It didn't happen system wide but the people who were lucky enough to find them had a good day.  Otherwise there were targets but the fish are getting a bit picky with the lower water and bright sunshine.  It was a beautiful day to be on the water.  Today sounds like a better fishing day with clouds coming and a chance of a shower in the afternoon.  Wind will be light and variable.  Light and variable sounds way better than the wind we've been dealing with all Spring.  We may see 1/4″ of rain today and maybe another 1/4″ tomorrow but that will soak right into the ground.  The release from Cannonsville is around 500 cfs.
Our lodging and fly shop are now open.  Our fly shop will be limited to two customers at a time and masks are required.  We will wipe down the shop before the next customers come inside.  We are following CDC cleaning guidelines for both the rooms and the shop.  We are still fulfilling mail orders in the online store:  https://drc-fly-shop.myshopify.com 
Curbside pickup is still a shipping option in the online store if you would rather not come inside.
We are now allowed to guide one client at a time in Pennsylvania, two anglers in NYS. If you would like a guided trip send us an email at flyfish@thedelawareriverclub.com or call 570-635-5880 and we'll try to fit you in.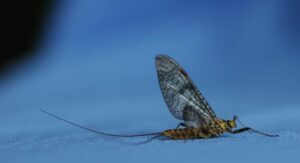 Hatching:
Click on the fly to see the patterns in our online store
Dark Blue Wing Olives – #16 – 18 – Baetis vagans
Little Black Caddis –  #16 – 20 – Chimarra sp.
Dark Hendrickson – #14 – E. subvaria (male)
Light Hendrickson – #12 – E. subvaria (female)
March Brown – 10 2xl – Maccaffertium vicarium (formerly S. vicarium)
Dark Grannom #14 – 18 – Dark Brachycentrus
Apple Caddis #16 – 18 – Light Brachycentrus
Click on the gauge below for the most recent update: