Oct 12, 2014
Comments Off
The Release hotline has not been updated since Thursday but it looks like the release from Cannonsville has been dropped back slightly leaving the flow at Stilesville 1,100 cfs.  We are also looking at slightly warmer air temps today in the low 60's and very little wind.  It sounds like a great day to be on the water.   Yesterday was pleasant but we saw fewer bugs on the water than the previous days.  There was enough of an olive hatch to get the fish going mid afternoon plus we saw a few bigger Stenos around size 14.  The West Branch under the 191 Bridge in Hancock is 55 degrees this morning.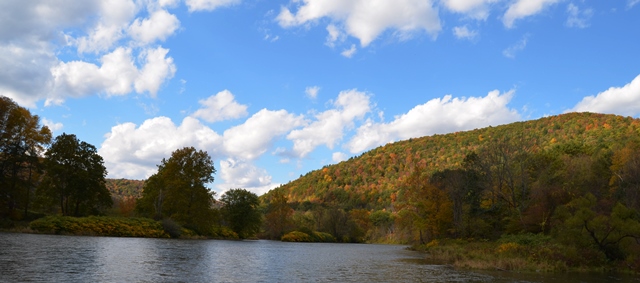 Hatching:
Olive/Sulphurs #18 -20 H. hebe
Tiny Blue Wing Olives #22 – 26 – Pseudocloeon sp.
Dark Blue Winged Olive #16 -20 – E. deficiens, lata, etc.
Slate Drakes #14 -Isonychia bicolor
Charcoal Caddis #16-18 – Dk Brachycentrus sp.