Sep 06, 2019
Comments Off
Well it looks like NYC DEP has had enough of ramping the flows up and down.  The release hit close to 1,200 cfs yesterday afternoon and was immediately dropped back to 450 cfs. The recording says 450 cfs release but the gauge at Stilesville shows a 387 cfs flow this morning.  The flow  on the lower West and Upper Main will continue to drop but everything is in good shape for wading already.  Of course the quick bump in release pushed the weeds but they should have settled out for the most part.  Fish were rising in the high water in the evening so they should be easier to reach today.  We're looking at 70 degrees today with a mix of clouds and sunshine.  Wind 5 – 10 mph from the South.  It looks like a great weather weekend.  Olives, isonychias, and cahills are still on the menu.  Definitely have your ants and yellow sallys ready just in case they hit the water.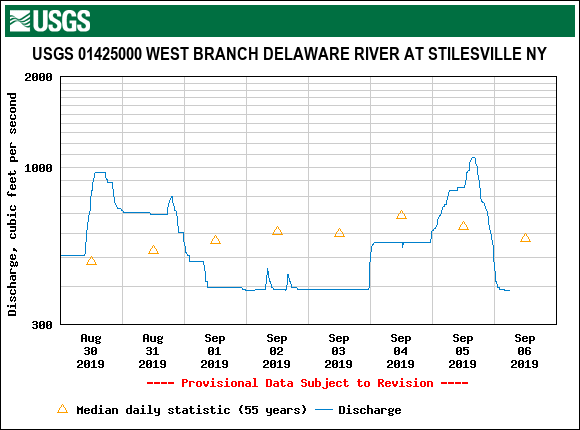 Hatching:
Click on the fly to see the patterns in our online store
Sulphur  – #18 – 20 – E. dorothea
Slate Drake – #12 – 14 – Isonychia bicolor
Tan Caddis – #16 – 18 – Hydropsyche sp.
Dark Blue Wing Olives  – #16 – 20 – E. lata, deficiens
Tiny Blue Winged Olives - #22 – 26- Pseudo sp.
Trico – #22 – 26 – Tricorythodes sp.
Golden Drake – #10-2xl – Potamanthus sp.
Great Brown Stonefly – #6-2xl – 10-2xl – Pene capita
Little Tan Sedge – #16 – 18 – Glossosoma sp.
Yellow Sally – #14 – Isoperla sp.
Click on the gauge below for the most recent update: