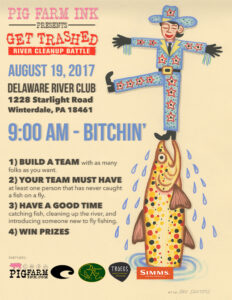 "Get Trashed in the Catskills" River Cleanup
August 19, 2017
Beat the water in search of cold beer, good times with new friends, a few fish, and tons of trash.  Help us clean up the local waterways and feel good about yourself… or something.
Teams will "compete" to catch fish, collect garbage, and introduce new people to fly fishing in this 1 day event.
Getting involved is simple. Organize a team, and sign up your team by emailing calabresesbarbershop@gmail.com by August 15 to sign up. Check in at 9:00AM on the morning of August 19, and collect supplies (garbage bags), and official rules sheets.  Proceed to fishing your asses off and having a good time collecting trash.  Show up for "weigh-in" at Troegs Independent Brewing at 4:00PM for the aftermath.
Click here for more information about the Get Trashed program.
Project Healing Waters Weekend
September 23-24, 2017
Contact us if you are interested in contributing to this event.
Fly Fishing & Spirituality Retreat
September 8–10, 2017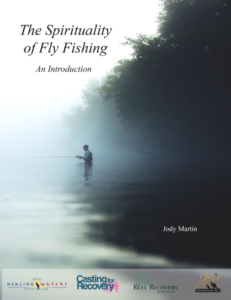 The Delaware River Club has joined forces with Vito Baldini, the Mercy Ministries pastor of Liberti Church in Philadelphia (http://libertichurch.org/#main), and Jody Martin (author of the recent book The Spirituality of Fly Fishing) to offer you a weekend like no other. Days will be spent learning how to fly fish and casting to wild trout on the storied Upper Delaware River, one of the top 5 wild trout streams in the U.S., while evenings will be devoted to furthering our understanding of the spiritual nature of fly fishing – why we are so drawn to it, how it helps and heals us, what we want and expect from it, and how we can give the gift to others – based on Jody's book.
Men, women, couples, families, and even children (over the age of 15) are encouraged to attend, as there is sure to be something meaningful for everyone. Lodging, meals, fly fishing instruction, guided fishing, and spiritual discussions – everything is included! The DRC offers several lodging options and can accommodate just about any size group. Also available are hiking trails, a private 3 acre fishing pond, and an outdoor pool.
The weekend retreat includes a two night stay at the Delaware River Club (double occupancy), Continental Breakfast on Saturday and Sunday, half-day guided fishing with lunch on Saturday, dinner in our dining room on Friday and Saturday night, and wading gear rental. Cost per person is $475.
Come relax, recharge your batteries, get closer to God, and become engaged in the wonderful and spiritual world of fly fishing! But register soon – spaces are limited! Call or email us to reserve your spot.
Itinerary:
Friday, September 8
4:00     Meet and Greet
4:30     Introduction to the retreat
5:00     Introduction to the basics of fly fishing
6:00     Dinner
7:00     First session on Spirituality – Selected questions from the book
8:00     Open discussion
Saturday, September 9
Breakfast and Introductions
Guided Fishing (includes lunch)
6:00     Dinner
7:00     Second session on Spirituality – More selected questions from the book
8:00     Open discussion
Sunday, September 10
Breakfast
9:00     Final session, Spirituality and fly fishing – final questions and discussion
10:00   Informal Sunday morning worship service