Last night's pulse of cold water from Cannonsville bumped the Stilesville flow to 950 cfs. The flow is already dropping this morning and should be back to normal by the afternoon. The pulse is designed to keep the water temperature below 75 degrees at Lordville. These pulses sometimes knock weeds loose so keep that in mind if you are nymphing. Small sulphurs and cahills are still hatching during the afternoon in the coldest river sections. The lower river sections have been a mix of olives and cahillswith a few caddis towards dark. Today is going to be hot at 93 degrees. We'll start off with sunshine but should see some clouds move in this afternoon. Wind will be 5 – 10 mph from the South. Wunderground is saying there is a chance of some afternoon thunderstorms so keep an eye on the radar.
The East Branch at Fishs Eddy, the Beaverkill at Cooks Falls, and the Mainstem at Lordville all peaked over 70 degrees yesterday. Give these sections a break until we get cooler temps.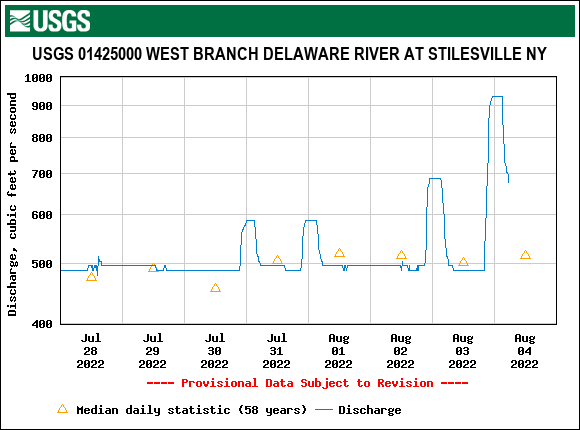 What's Hatching:
Slate Drake – 12-2xl – 12- Isonychia bicolor
Sulphur – #16 – 20 – E. dorothea
Light Cahill – #14 – E. vitreus (male), E. invaria, Stenacron spp.
Dark Blue Wing Olive – #18 – 20 – deficiens, lata
Tiny Blue Wing Olive – #22 – 26 – Pseudocloeon sp.
Yellow Sally Stonefly – #14 – Isoperla spp.
Tan Spotted Sedge #16 – 18 – Hydropsyche sp.

View the current local weather conditions.