Bob Lewis's memorial information:
Relatives and friends are respectfully invited to attend Robert's Memorial Mass of Christian Burial and Celebration of Life which will commence on Saturday, October 7, 2023 at 11:00 a.m. at St. John the Evangelist Church, 66 Oxford Rd., New Hartford. There will be an opportunity to greet the family at the conclusion of Mass. Inurnment will take place at Mt. Olivet Cemetery in Frankfort at the convenience of the family.
Here's link to Bob's obituary: https://www.eannacefuneralhome.com/obituaries/Robert-Lewis-112/#!/Obituary
The West Branch looks good this morning with decent clarity. The flow at Hale Eddy is 999 cfs and dropping. The release is now 475 cfs. Yesterday was an odd one because we tarted off clear, got slightly dirty, started to clear, and then got dirty again. Just isolated rain that hit different river sections at different times. There is no rain in the forecast today. There have been good Isonychia spinners for the last two nights. In the air. We haven't seen them hit the water with daylight left. #18 – 20 olives have been our best fly over the last couple of days despite the bigger bugs being around.
Today will be 68 degrees with sunshine. Wind will be 10 – 15 mph from the North.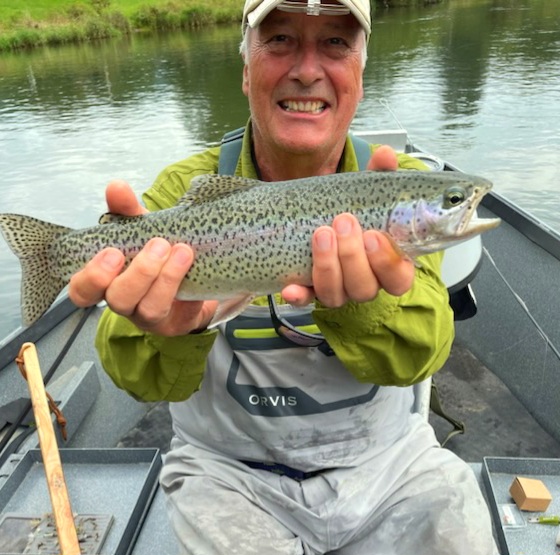 What's Hatching:
Sulphur – # 20 – E. dorothea
Slate Drake – # 12 – 14 – Isonychia bicolor
Dark Blue Wing Olive – #18 – 20 – deficiens, lata
Tiny Blue Wing Olive – #22 – 26 – Pseudocleon sp.
Olive Caddis – #16 – 18 – Ryacophilia sp.
Tan Caddis – #16 – 18 – Hydropsyche sp.
Dark Blue Wing Olive – #16 – 18 – Baetis spp.

View the current local weather conditions.