We were hit with a few thunderstorms yesterday but overall the West Branch came through them okay. The flow at Hale Eddy is 721 cfs and already dropping. Homepool is clear and looks good this morning. The West Branch level is fine for wading and floating. The Beaverkill, lower East, and Mainstem flows are still coming up. Looking at the Beaverkill gauge it is probably off color too. We may see some additional storms this afternoon so keep an eye on the radar and click the gauge links below for the latest flows. Today could be a good day for olives and hopefully a few Isonychias. The cloud cover should help. There is still algae in the upper West so nymphing will be less frustrating on the lower sections of river.
Today will be 82 degrees with partly cloudy skies. There is a chance of afternoon thunderstorms. Wind will be light and variable.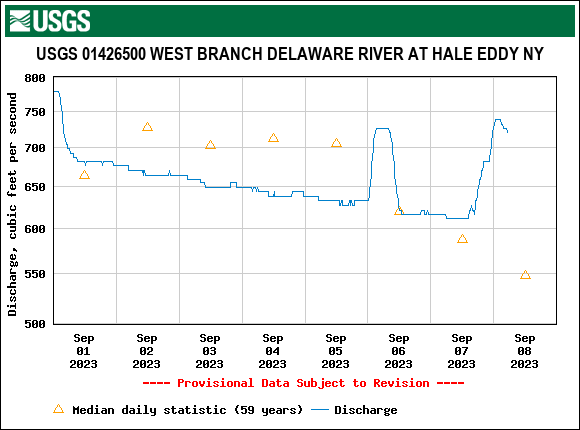 What's Hatching:
Sulphur – # 20 – E. dorothea
Slate Drake – # 12 – Isonychia bicolor
Dark Blue Wing Olive – #18 – 20 – deficiens, lata
Tiny Blue Wing Olive – #22 – 26 – Pseudocleon sp.
Light Cahill – #14 – Stenocron spp.
Olive Caddis – #16 – 18 – Ryacophilia sp.
Tan Caddis – #16 – 18 – Hydropsyche sp.
Dark Blue Wing Olive – #16 – 18 – Baetis spp.

View the current local weather conditions.