The release from Cannonsville was increased and the flow at Stilesville is 1,330 and climbing this morning.  So far we've had a few showers but not enough to affect the river conditions.  Wunderground shows around 1/2″ of rain today mainly from thunderstorms.  Wading will be tough without the rain so definitely keep a close eye on the river gauges below.  The increased release on the West Branch may increase the tint of the water but it will be fishable.  Streamers may be a good option- especially if we get hit with the rain.  Otherwise olives and a few Heptagenia.  There have been ants out there in some form almost every day.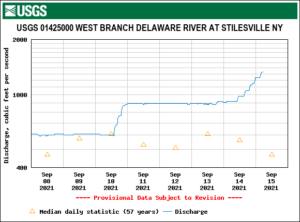 What's Hatching:
Olive Sulphur – #18 – 20 – Heptagenia hebe
Light Cahill – #14 – Stenocron spp. , E. invaria
Slate Drake – #12-2xl – 12 – Isonychia bicolor
Tiny Blue Wing Olive – #20 – 24 – Pseudocloeon sp.
Blue Wing Olives – #16 – 20 – D. deficiens, lata
Light Blue Wing Olives - #16 – 20 – E. cornutella, attenuata
Tan Caddis – #16 – 18 – Hydropsyche sp.
Click on the gauge below for the most recent update:
| | | |
| --- | --- | --- |
| West Branch at Stilesville, NY | 1,330 cfs | 51° |
| West Branch at Hale Eddy, NY | 1,440cfs | 53° |
| East Branch at Harvard, NY | 758 cfs | 51° |
| East Branch at Fish's Eddy, NY | 1,280 cfs | 59° |
| Mainstem at Lordville, NY | 2,570 cfs | 61° |
| Beaverkill at Cooks Falls, NY | 470 cfs | 63° |
| Cannonsville Reservoir Release | guessing 1,499 cfs | |
| West Branch at 191 Bridge | N/A | 54° |
| West Branch at Walton (Cannonsville inflow) | 321 cfs | 66° |
| Cannonsville Reservoir Capacity | 92.9% | |
| Pepacton Reservoir Capacity | 96% | |