UPDATE: We got a report that the East Branch is blown out. The West Branch is also running muddy. Stick to the water closest to the dams for dry fly fishing.
The aqueduct work has been pushed off until Fall of 2024.
Some thunderstorms hit us and all of the river flows are up this morning. The West Branch at Hale Eddy is flowing 1,400 cfs but is dropping. Streamers could be productive in the high water this afternoon. If you're wading or want dry fly fishing stay above Oquaga Creek. The flow is 500 cfs, clear, and will have the afternoon sulphurs and olives.
Next weekend is our annual Get Trashed cleanup event. Join us for a great time removing trash from the river system.
Today will be 69 degrees with rain showers most of the day. Total rainfall should be .05″. Wind will be 10 – 15 from the West.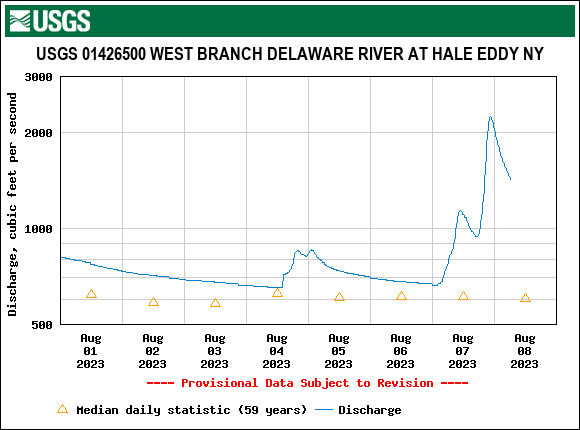 What's Hatching:
Sulphur – #16 – 20 – E. dorothea
Slate Drake – 12-2xl – 12 – Isonychia bicolor
Dark Blue Wing Olive – #18 – 20 – deficiens, lata
Pale Evening Dun – #14 – Epeorus vitreus
Tiny Blue Wing Olive – #22 – 26 – Pseudocleon sp.
Light Cahill – #14 – E. invaria, rotunda, Stenocron spp.
Olive Caddis – #16 – 18 – Ryacophilia sp.
Tan Caddis – #16 – 18 – Hydropsyche sp.
Dark Blue Wing Olive – #16 – 18 – Baetis spp.

View the current local weather conditions.