Our shop will close this Friday 10/20 for the 2023 season. Nothing bad- we just need a little time off. We will reopen April 1st like normal. In the meantime we'll be back on the blog in November for the limited fly of the week.
The release from Cannonsville is coming back up. It will settle back where we were n Wednesday at 175 cfs. It's still small olives with a few Isonychias, caddis, and Heptagenia. Some people are finding fish blind casting the Isonychias in the riffles. Otherwise wets and nymphs will be your bets bets early. The wind will be up a bit from yesterday so find some protected spots if you're looking for risers in the afternoon.
Today will be 64 degrees and partly cloudy. We may see a mix of sun and some light afternoon showers. Wind will be 10 – 15 mph from the south.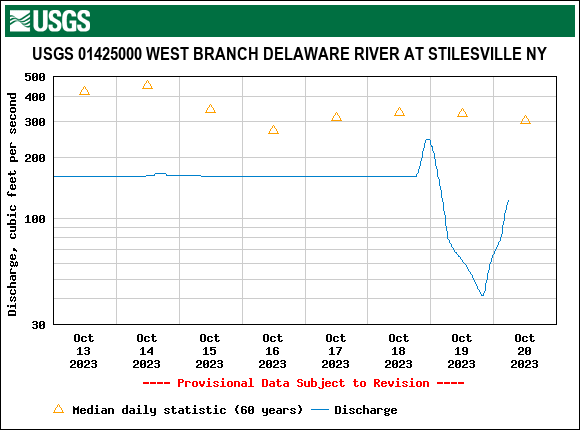 What's Hatching:
Olive Sulphur – # 18 – 20 – Heptagenia hebe
Slate Drake – # 12 – 14 – Isonychia bicolor
Dark Blue Wing Olive – #18 – 20 – deficiens, lata
Tiny Blue Wing Olive – #22 – 26 – Pseudocleon sp.
Olive Caddis – #16 – 18 – Ryacophilia sp.
Tan Caddis – #16 – 18 – Hydropsyche sp.
Dark Blue Wing Olive – #16 – 18 – Baetis spp.

View the current local weather conditions.