The river flows are dropping this morning and the West branch looks good out front. There's still a good amount of water in the feeder streams but they should be dropping throughout the day. There is a slight tint on the lower West Branch but it is definitely fishable. Yesterday looked like a streamer day but we're sure some people found fish rising in the slow tailouts. Today will be much warmer hitting 73 degrees, sunny, with no wind. Small olives, Heptagenia, caddis, and a few Isonychias should cover most of what you see.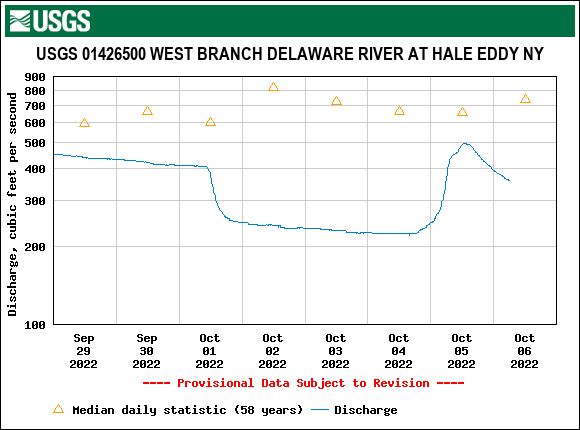 What's Hatching:
Slate Drake – 12- 14- Isonychia bicolor
Olive Sulphur – #16 – 20 – Heptagenia hebe
Light Cahill – #14 – Stenacron spp.
Dark Blue Wing Olive – #18 – 20 – deficiens, lata
Tiny Blue Wing Olive – #22 – 26 – Pseudocloeon sp.
Yellow Sally Stonefly – #14 – Isoperla spp.
White Fly – #12-2xl – Ephorun leukon
Flying Ants – #16 – 22
Tan Spotted Sedge #16 – 18 – Hydropsyche sp.

View the current local weather conditions.